To my friends with school-age children, fellow teachers, and people who enjoy a custom word search,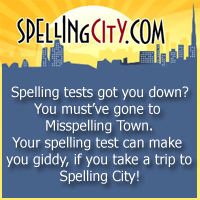 This is the most amazing site in the whole world. Really. I will never have to give (or grade) another spelling test as long as I live! Not only does it have a dozen custom spelling games, but it gives an individualized test for each kid, reads each word AND uses it in a sentence! And it reads it in a HUMAN voice, not a
creepy computer voice
. Kids can take the test at their own pace with less testing anxiety. When the kids are done with the test, they print out a certificate with their score and which words they missed! This is truly amazing, people.
... and it's free!!!